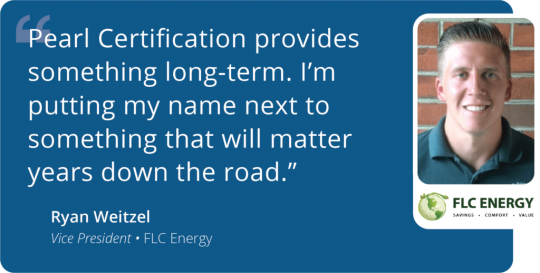 FLC Energy is a home performance contractor dedicated to making homes and small businesses more efficient, comfortable, and safe.

The company recently partnered with Pearl so that it could offer a clear explanation and certification for the home performance improvements that it makes to homes and businesses, explained Ryan Weitzel, Vice President of FLC Energy.
Ryan is also a partner of High Efficiency Rentals LLC, which provides low income residents with homes that are affordable, energy efficient, comfortable, and healthy. He collaborates with his team to improve the properties with high performance assets for safety, comfort, and efficiency. Along with Pearl Certification, he also offers an innovative financing model to help households reduce and offset utility bills.
"Pearl Certification gives us a competitive advantage. We try to do something that someone else can't do," Ryan said.
Ryan proudly explains that of the six properties he's improved and rented to low-income families, all are Pearl Gold Certified for high-performance assets including measures like attic and wall insulation, ventilation, mini-split HVAC units, and conditioned crawl spaces.
"Sometimes it's hard to find a landlord that will come out and take care of even basic issues," Ryan said. "It can result in poor conditions that affect health, livelihoods, and costs. Everyone deserves a healthy home."
Pearl helps Ryan achieve his goal of healthy homes for all families.
"Pearl offers something extra an added value to my customers besides just the services we provide. I want them to have an avenue to regain or recoup their investment outside of just energy savings."