The Pearl Solar Equity Calculator® equips homeowners, contractors, and appraisers with the resources needed to accurately capture the value of a PV investment.
A lack of installation information on the solar system has hindered appraisers from adequately assessing the true value of residential photovoltaic (PV) systems. The Pearl Solar Equity Calculator solves this problem, using certified data from trusted sources.
Third-party certified value assurance 
Use the calculator to estimate the amount of equity a solar installation can bring a homeowner.
Validation proposal tool and Certification Report  
Deliver on your customer promise by verifying the discounted cash flow of the solar installation and a projected schedule that shows a range of values over time.
Appraiser-ready certification report 
Pearl provides investment-grade documentation to help ensure the home's solar value is accurately calculated at time of sale.
24x7 online dashboard access 
Create, store, and share valuation reports with homeowners, appraisers, or real estate agents.
Financial and government-approved algorithm design 
Produce credible calculations using a tool that extracts data from Freddie Mac and NREL APIs to calculate results for use during the appraisal process.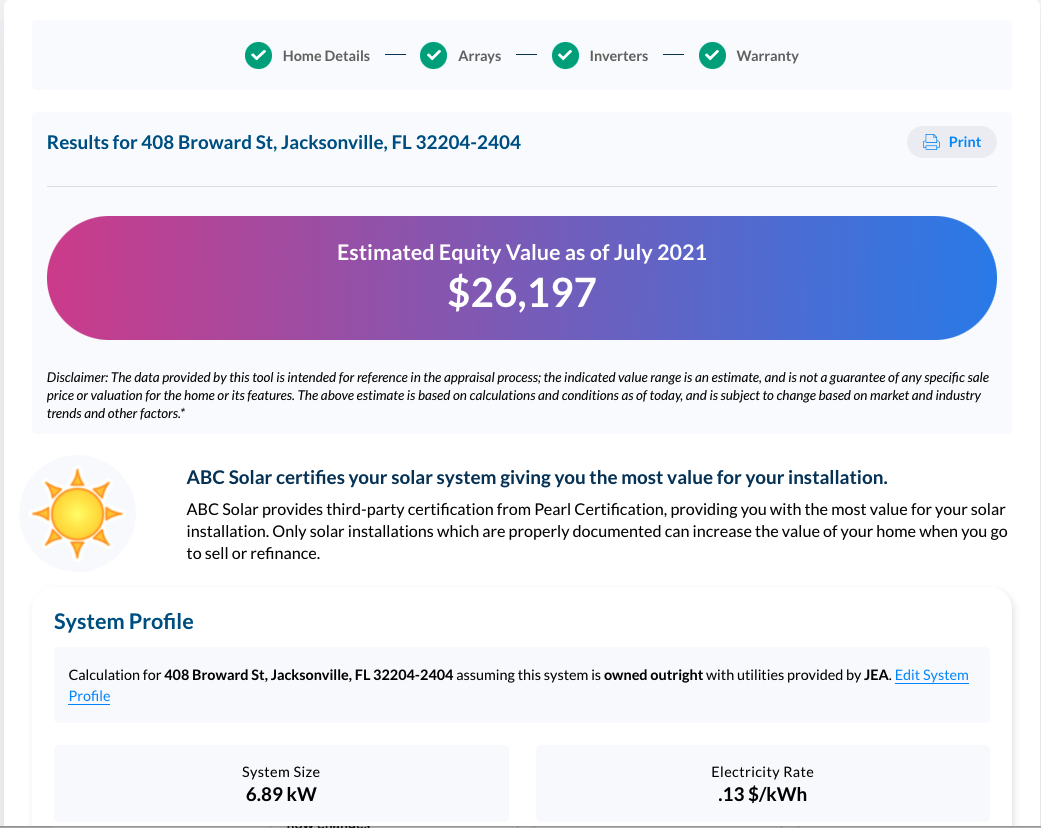 It's time to move past the lip service your competition is reciting and start sharing verifiable data and proof points that will put homeowner concerns at ease.
Network Member Calculator Login
Not yet part of the elite Contractor Network? Join today.
We are excited to be associated with Pearl Certification because it sets us apart from other solar installers—it puts us in an entirely different class, actually. Pearl Certification is the frosting on the cake for our customers and it gives our sales team the extra ammunition it needs.
Access Pearl's powerful software tools by joining Pearl's elite Contractor Network.
Pearl changes the game for your value as a contractor. As an elite Pearl Network Contractor, you'll gain access to must-have marketing resources, industry insights, and digital tools like the Pearl Solar Equity Calculator to help you shift the conversation from price to value and quality service. Call 1.844.PEARLØØ or complete the form to learn more about joining the elite Pearl Network.