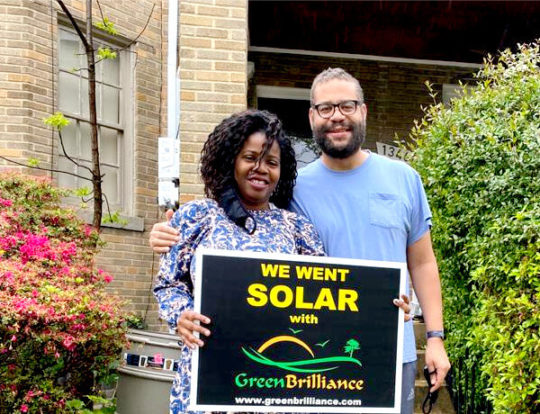 Founded in 2007, GreenBrilliance provides turnkey solar solutions customized for residential and commercial needs. Their goal is to help customers save on utility costs, achieve energy independence, minimize carbon footprint, and contribute to a clean, green and sustainable future.

When Sumit Bhatnagar started the company in 2007, his work was cut out for him. "The idea was to start a company in renewable energy at a time when most people in America understood very little about solar at all, let alone the idea that it could actually power your home," Bhatnagar says.
Still, Bhatnagar forged ahead with his vision for building a company that would become a leading solar energy partner in the D.C. Metro Area by delivering American-made, end-to-end integrated solutions with a relentless commitment to quality, performance, and customer delight.
This approach is clearly working. In fact, GreenBrilliance was recently recognized as one of the top solar contractors in the U.S. by Solar Power World.
CHALLENGES
Of course, a lot has changed in the 13 years since GreenBrilliance was founded. In recent years, the relative speed with which solar companies have infiltrated the U.S. market, combined with a lack of oversight, has led to some major problems for the industry and consumer confidence.
"Now, it's a fish market," says Bhatnagar. "Many big companies deploy sales guys a few times a year and they just go door to door with the mindset of 'sell, sell, sell.' They have no commitment to quality when it comes to either the solar panels or the service they offer."
As a result, many consumers are jaded and apprehensive to invest in solar. Additionally, there is little homeowner understanding of the value solar adds to the home and how that value can be captured when it's time to sell or refinance.
"Once I saw the value of Pearl, I said, 'Let's start offering a Pearl Certification for all of our installations!'"
OPPORTUNITIES

At the same time, with almost every challenge, there comes an opportunity as well. In the case of GreenBrilliance, their commitment to high-quality products and superior standards of service meant they had an opportunity to stand out in a sea of disreputable companies.
"Many solar installers are living for today — focused on making the sale, installing the panels, and moving on," says Bhatnagar. "But our focus is purely on quality and relationships. We offer warranties on our products and our workmanship. We care about the customers, the technology being installed, and the service — not only during the initial job but for whatever the customer may need in the future too," he explains, adding, "Low-grade panels may save money today, but I'm thinking beyond today."
The Path to Pearl 
Another way GreenBrilliance has managed to set itself apart is by becoming a Pearl Partner. Bhatnagar admits that when he first heard about Pearl, he wasn't immediately convinced it would significantly benefit his customers. But after further investigation and careful consideration, he started to realize there was "much deeper value" to Pearl than he originally thought. "Once I saw this value, I said, 'Let's start offering a Pearl Certification for all of our installations!'" he says. 

Pearl gives our customers the assurance of a 'bond' with some authority that this isn't just a piece of glass on their roof. It's a worthwhile investment they can feel good about that adds real value to their home.
RESULTS 
The company launched with Pearl in April 2020, and while it's only been a short while, Bhatnagar says he is already seeing the valuable impact of Pearl on his business.
"One of the greatest benefits of Pearl is certainly how it helps us demonstrate the value we bring to homeowners. There is so much garbage in the market now, most consumers have developed a lack of trust in solar companies and the claims they make. But when they hear and see the value-add of quality solar installations from a reputable third-party certifier, they feel better because they don't have to just take our word for it," Bhatnagar says.

"Pearl gives our customers the assurance of a 'bond' with some authority that this isn't just a piece of glass on their roof. It's a worthwhile investment they can feel good about that adds real value to their home," he adds.
Not only does GreenBrilliance provide a Pearl Certification on new installations, they even did a Retro-Certification Campaign with Pearl.
"GreenBrilliance has retro-certified over 50 past customers (whose projects were sold and installed before GreenBrilliance joined the Pearl Network) and provided a Pearl Certification at no cost to them," says Ryan Buckley, Manager of Contractor Success at Pearl. "This really speaks to the character of company, because they're going out of their way to reassure homeowners with what is essentially a protection on their investment — giving them peace of mind at a time when they're really needing it," he adds.

Other ways GreenBrilliance has integrated Pearl into its business include:
All sales staff are now trained and educated about Pearl Certification.
Pearl's one-pager is inserted into a leave-behind folder that includes the proposal and other important information about the company's products and services. The sales team hands these folders over to every homeowner they meet with, whether they've signed yet or not.
For those who do sign, a note about how GreenBrilliance will provide a Pearl Certification is always included in the contract, so customers know it's not just a possibility, but a guarantee.
LOOKING AHEAD
While Bhatnagar has seen many solar companies come and go over the years, there's no doubt in his mind that the future is bright for GreenBrilliance. "We grow slow, but we grow strong," he says, explaining that teamwork is key to their success—and that includes continuing to partner with Pearl.
"When the right people with the right intentions and the right direction team up, there's nothing that will stop us from reaching the finish line together," Bhatnagar says.