Larry Feiner, a REALTOR with HomeSmart Arrowhead in Glendale, Arizona had a listing in a nice area that was priced right but was sitting on the market, getting stale. The listing was set to expire in 30 days and Larry had already put in four months of work; he was facing the prospect of expiration (and no commission).
This happened at the same time that HomeSmart joined the Pearl Advantage Network!
After learning about his Pearl Partner benefits, Larry thought that a Pearl Certification might be a way to freshen up the marketing of his listing. It qualified as Pearl Silver and Larry received the report and marketing materials from Pearl. "I put the Pearl Certification front and center. That was the main picture of the home in all of my marketing," Larry said.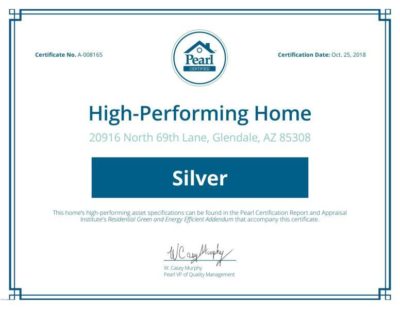 Within a week, he received and accepted an offer on the house.
Not long after, Larry's curiosity got the better of him. He contacted the buyer's agent and asked if the Pearl Certification played a role in the buyer's decision.
The buyer's agent responded, "Oh, absolutely! We'd been looking for homes for months and every time we left a house that was in their price range, my buyers had the impression that it wasn't a quality home. When we saw the Pearl Certification Report with details about how efficient this house is, they immediately wanted to see it."
The buyers felt comfortable that it was a quality house because of Pearl.
"They bought the house because of its Pearl Certification," the buyer's agent said.