Summary
Jacob Watkins is a Florida-licensed real estate agent and certified-GREEN REALTOR® who now works as a full-time energy advisor. When Watkins was transitioning from real estate sales to energy consulting, he saw Pearl Certification as an opportunity to demystify the process of rooftop solar for his clients, so they could invest in the "power of the sun" with confidence.
The Challenge
Selling a home with solar panels comes with a unique set of challenges. Many agents actually advise their clients to remove a solar array before listing their home. However, that isn't always possible. Watkins says he got into the energy advising business because he wanted to help clear up some of the confusing and conflicting messages coming from the residential solar industry.
"Lots of solar companies use attention-grabbing statements like 'no money down' and 'instant savings' that sound great at first. But what I've ultimately found is that the solar industry is full of all sorts of unclear information," he says, explaining that this can be overwhelming and difficult for both homeowners and real estate professionals to understand. Unfortunately, this often results in a "throwing up of hands" or worse — a reluctance to even attempt to factor in solar panels — when it comes to home valuation.

"Energy-efficient, high-performing homes have lots of valuable features that aren't readily visible, which often leads to inaccurate appraisals," says Watkins. "That's where Pearl really steps in with solutions — because they bring all those hidden gems to light."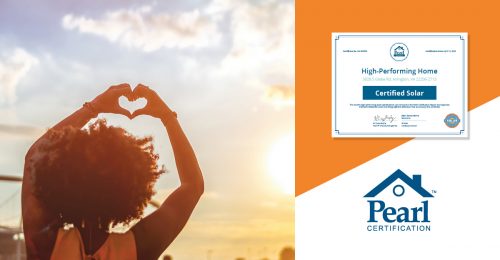 The Solution: The Power of Pearl

With Pearl, Watkins can give his clients peace of mind when they are making a significant investment in energy efficiency and renewable energy upgrades.
"I purchase a Pearl Certification for anyone who does solar with me," says Watkins. "This way, when the question, 'What if I have to sell my house?' comes up — and it always does — I just hand them the Pearl packet, with their Certification Report and Appraisal Institute Green & Energy Efficiency Addendum, and they have all the answers to their home-selling questions right there."
With Pearl Certification in his arsenal, Watkins is able to empower his clients to make sound financial decisions. "Pearl takes all the unseen features of a home and makes them visible." And by making them visible, their value becomes quantifiable too.
Consider the following real-world example of the power of Pearl:
Listed on 10/22/2020, the home at 1862 Madison Ivy Circle went under contract within two weeks for close to the asking price of $270K. Although it seemed like it would be an easy transaction, the homeowners still had an outstanding balance left on their financed solar panels. The sellers could not pay down the balance of the panels and the potential buyers could not take on the additional debt at the contract price.


The listing agent reached out to Watkins for advice and assistance. Watkins worked with the agent and got a Pearl Solar Certification for the home. With the Pearl Certification, the home appraised for $285K ($15K over contract price!), which not only kept the closing on track but also got the sellers more money for their high-performing home.



Spreading the Word

Watkins not only uses Pearl in his business, but he also uses Pearl to educate his colleagues in real estate.
"I teach classes for agents on how to effectively market and price solar homes. A pretty significant part of that class is teaching them about Pearl, showing them a real Pearl Certification, walking them through that," he says.
"When I'm talking about Kilowatt and production and all these complicated industry concepts, I can just show them the Certification Report and documentation, and it helps them more easily understand how all these things come together and help tell a compelling story about the often unseen, underlying value of these [energy-efficient and high-performing] homes."
Watkins is also particularly excited about Pearl's consumer-facing app, Green Door.

"Green Door is an amazing resource for client retention for realtors because it gives them a reason to reach back out to their clients and help them improve the energy efficiency of their home — which is an incredibly important topic for many homeowners," says Watkins.
"And as a solar and real estate expert, Green Door helps me connect the dots between the many aspects of energy efficiency in a home. I don't have to become an expert in HVAC or insulation or any other area — Green Door makes it super easy by providing that expert guidance to homeowners for me," Watkins says.
Learn more about Pearl's Green Door app
Green Door is a homeowner's one-stop shop to learn about, manage, maintain and improve their home's performance. The Green Door app empowers homeowners to understand the details of assets they currently have in their home, receive recommendations on improvements, find Pearl Network Contractors and Pearl Real Estate Network Members, and keep track of their home's maintenance.
Join the Pearl Network
When you join the Pearl Network as a Pearl Real Estate Network Member, you gain marketing and sales tools and educational resources to effectively market high-performing homes. Research proves that properly marketed high-performing homes sell faster and for more money. Complete the form to learn how joining the Pearl Network differentiates you from the competition.